Molding Medical Minds
Biomed students participate in a practicum at Kyle Seton.
The future is bright at JHS with the school's biomedical students. Last semester, the seniors involved in the biomedical studies had the privilege to shadow and work at Kyle Seton to further their education. They observed and worked with the hospital staff for a little more than a week. 
"I think all of them looked forward so much to being able to do medical observations that a lot of them were like, 'this is why I was in it,'" biomed teacher Jen Deschaine said. 
With a degree in sports medicine and a history of being an athletic trainer, Deschaine loved seeing her students involved. The students worked with many different people and many different situations each day. 
"It was really cool meeting so many different types of people. I met a nurse from Ethiopia, I met nurses who had worked double night shifts and were exhausted, I've met nurses that have been in the field for 30+ years," senior Kaitlynn Hatchett, a participant in the program, reported. "It was really interesting seeing their perspectives and listening to them talk about their jobs and the truth about the medical field." 
This opportunity to work at the hospital impacted a lot of students, and many students found their passion by switching between different departments at the hospital. 
"I think the experience helped me understand what I really wanted out of the medical field as a career," Luke Adams, a senior participant, said. "I realized I wanted to be a pharmacist." 
Since the experience at the hospital, the students are now actively working on their medical assistant certification exam that they'll take in April. This exam will allow these students to be employed straight out of high school in any medical office.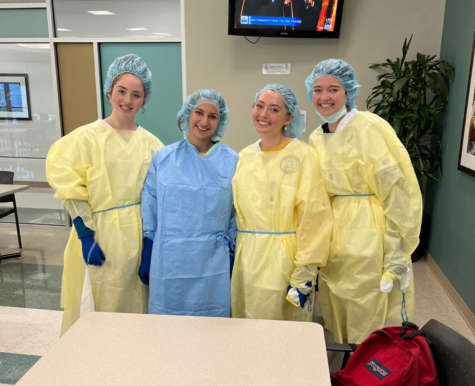 "Our school district has a really amazing career and technology program, and it's built around giving students an opportunity to pursue whatever career they think they might want to do after they leave these four walls of high school," Deschaine said.